Rescue Road-Rail vehicle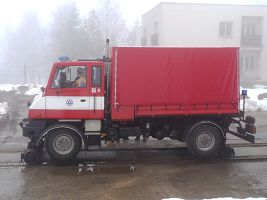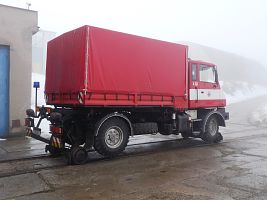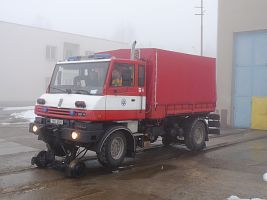 Rescue Road-Rail vehicle is a road vehicle equipped with rail gears, designed for ride on rails, and a body superstructure. Vehicle is equipped with all necessary tools for rerailing of derailed wagons or trams, mainly by means of rerailing device with self-drive unit. Equipment includes rerailing tools, for example, hydraulic cutters, spreaders, rescue rams - driven by engine unit. Telescopic lifting cylinders, hydraulic hoses including winches, combined rerailing tools, etc. can be part of supply if required.
Bench for 4 persons separated from the rerailing equipment box by means of a firm barrier is located in the front part of the body superstructure. Communication with driver is assured by means of intercom or the slide window of the driver's cab.
Vehicle drive on rails can be assured either by means of the friction system tyre rubber - rail steel (vehicle tyres roll on rails - this type of drive is prefered for the suitable relation price/power output and for the minimum requirements and expenses of maintenance and operation) or by means of the hydrostatic system steel - steel (vehicle tyres are raised above rails and vehicle drive is assured by means of hydraulic engines and rail gear wheels - using this type of drive, vehicle behaves as a standard railway vehicle with all advantages, e.g. smooth negotiation of switches, guards, etc.).
IVECO, Praga, DAF and many other vehicles can be used as a base vehicle. Configuration with double cabin is possible. Version of rescue Road-Rail vehicle for derailing of trams can be supplied as well.