Road-Rail vehicle IVECO EuroCargo DUO - 4x4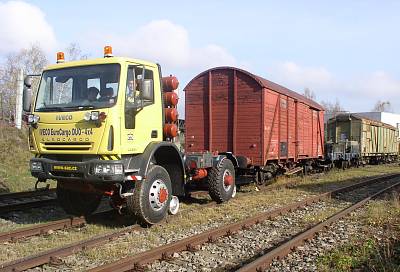 Road-Rail vehicle IVECO EuroCargo DUO – 4x4 is designed for towing and pushing of railway wagons. The vehicle can be used for maintenance work on or outside railway tracks, if the necessary superstructures (grass/brush cutter, crane, trailer, sprinkler, workshop, container bodies, etc.) are mounted.
The advantage of this Road-Rail vehicle is the capability of towing loads up to 1000 tons. Four auxiliary air tanks are mounted on for this purpose. As an option vehicle can be equipped with an automatic coupler for easier coupling to railway wagons or bumpers, etc.
Both rail gears are one-axle and are situated behind the road axles. Power transmission is achieved by means of the vehicle tyres during ride on rails. CCTV cam system for safe reversing can be supplied as part of the vehicle equipment, as well as the railway lights and illumination system for nightwork. All vehicle operations on rails are controlled electrically from the driver's cab. Vehicle can drive with reverse gearbox in both directions with the same speed. If necessary, vehicle can also be offered with very slow drive (from 180m/hour).